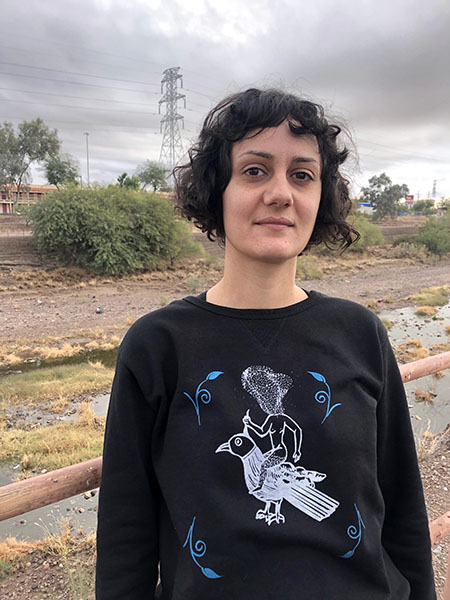 Online delivery through Zoom. Connection information will be sent to registrants one day prior to the event.
Join artist Nazafarin Lotfi, in conversation with poet Saretta Morgan, as she shares insights about her work featured in the exhibition 4×4 and her artistic practice. Lotfi's work included in 4×4 has been curated by Jeremy Mikolajczak, Jon and Linda Ender Director and CEO.
Free First Thursday is presented by an anonymous donor. 
About Nazafarin Lotfi
Nazafarin Lotfi is a visual artist who divides her time between Tucson, Arizona, and Chicago, Illinois. Her interdisciplinary practice combines drawing, painting, video, and sculpture to explore the spatial and temporal experience of bodies out of place. Lotfi was a 2020 recipient of Phoenix Art Museum's Contemporary Art Grant, and her work has been exhibited extensively, including MOCA Tucson, Tucson, Arizona; Soon.tw, Montreal, Quebec, Canada; Andrew Rafacz Gallery, Chicago, Illinois; Brand New Gallery, Milan, Italy; and Tony Wight Gallery, Chicago, Illinois. 
About Saretta Morgan
Saretta Morgan is a writer and artist. She lives in Phoenix, Arizona where she teaches Creative Writing at Arizona State University and contributes to the humanitarian aid efforts of No More Deaths Phoenix. She is the author of the chapbooks room for a counter interior and Feeling Upon Arrival. Currently her work addresses Black migration to the United States Southwest and its relationship to contemporary migration and border politics. Saretta holds degrees in writing from Columbia University and Pratt Institute. Most recently she has received grants and fellowships from Arizona Commission on the Arts, Headlands Center for the Arts, the Jerome Foundation and the Center for African American Poetry and Poetics. She is at work on Alt-Nature, her first full-length collection.