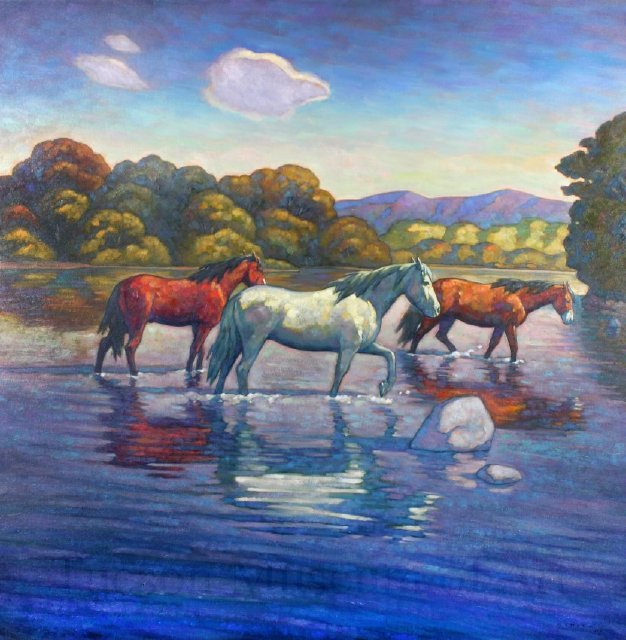 Since the earliest known artists carved images of horses on cave walls, men and women have continued to capture the spirit and majesty of horses in every time period and medium.
Monthly lectures examine art and artists that have influenced the world, from the great classics of Europe to the art of the Southwest, to the most exciting trends in modern and contemporary art. The Museum will also be open on those days, so bring the family, enjoy the Art Talk, and then wander the galleries!
Art Talks are $5 for non-members; free for TMA members and students with ID.
Image credit: Howard Post, Three Crossing, 2013, oil on canvas. Collection of the Tucson Museum of Art. Gift of James and Louise Glasser. 2014.1.1
The elevator to the Alice Chaiten Baker Center for Art Education is temporarily out of order. The building remains accessible through the entrance located on the south side of the building along Alameda, the door is labeled "166." Please call 520-616-2692 for assistance.
---
El Caballo, Por Supuesto: arte Equino
Presentado por Carlos Tampio
Desde que los primeros artistas tallaron imágenes de caballos en las paredes de las cuevas. Los hombres y mujeres han seguido intentando capturar el espíritu y la majestuosidad de los caballos, en cada época y en todos los medios.
Tenga en cuenta que el elevador al Centro de Educación Artística Alice Chaiten Baker está temporalmente fuera de servicio. El edificio continúa accesible a través de la entrada ubicada en el lado sur del edificio a lo largo de Alameda, la puerta está etiquetada "166". Llame al 520-616-2692 para obtener ayuda.