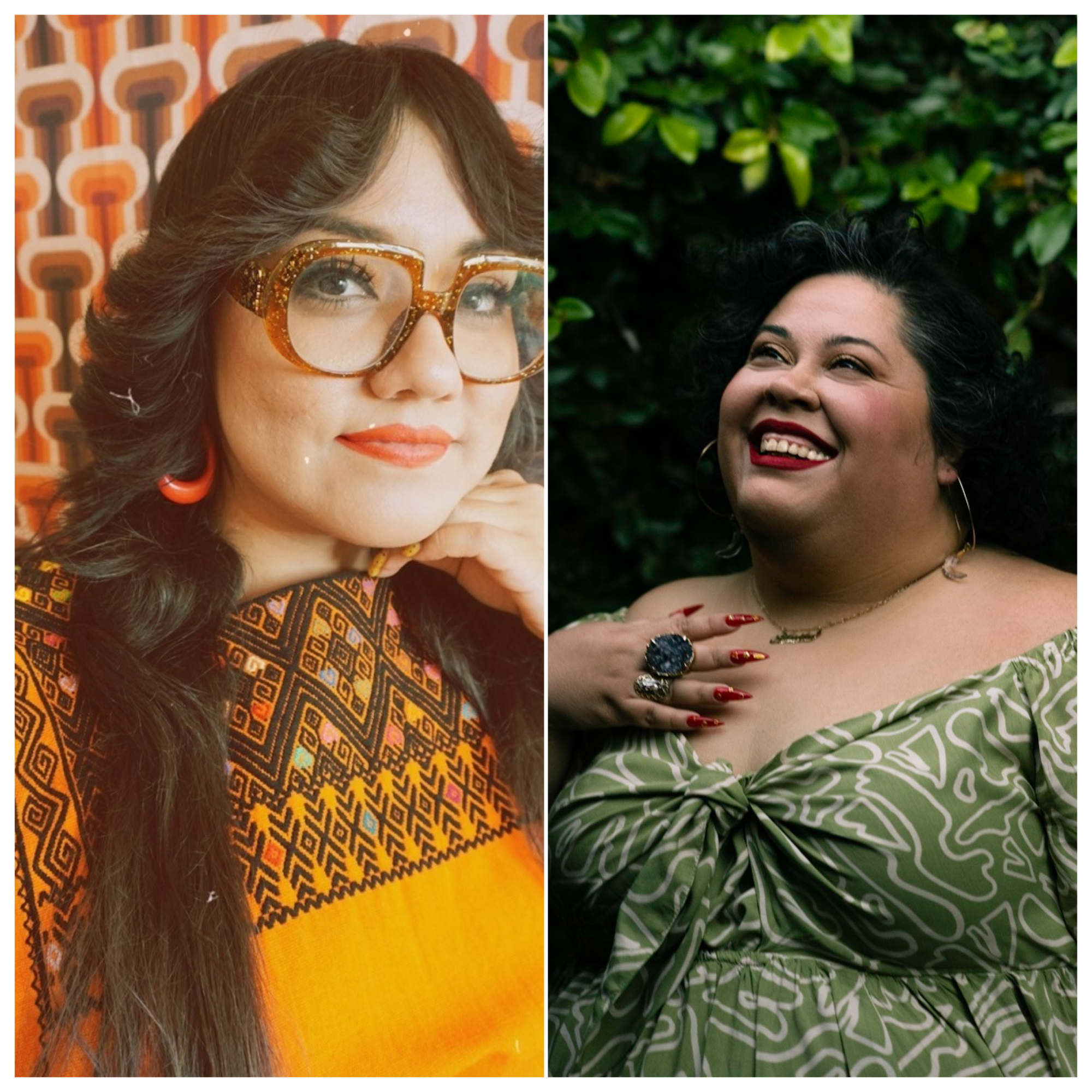 In conversation with Gloria Lucas and Yesika Salgado: Nalgonas, Mangos and Building a Legacy
---
Come meet the founder of Nalgona Positivity Pride, Gloria Lucas and poetic luminary Yesika Salgado. Listen to them tell all about their journeys in activism, DIY social movements, gossip and building a sisterhood along the way.
---
ABOUT THE SPEAKERS
Gloria Lucas is an eating disorders awareness activist that specializes in intersectional eating disorders education and resources that transform the lives of BIPOC individuals and expand eating disorders treatment models. Being the founder and CEO of Nalgona Positivity Pride, she is able to raise awareness through digital media, public speaking, and grassroots activism. She lives in Orange County, CA.
Nalgona Positivity Pride (NPP) is an in-community eating disorders and body-positive organization dedicated to creating visibility and resources for Black, Indigenous, communities of color (BICC.) Since2014, NPP has been raising awareness around the specific needs of BICC through digital media, education, grassroots eating disorders treatment models, and art.
Yesika Salgado is a Los Angeles based Salvadoran poet who writes about her family, her culture, her city, and her fat body. Salgado is a two time National Poetry Slam finalist and the recipient of the 2020 International Latino Book Award in Poetry. Her work has been featured in the New York Times, Los Angeles Times, TeenVogue, Univision, CNN, NPR, and many other platforms. She is an internationally recognized body-positive advocate, writer of the column Suelta for Remezcla and contributor to refinery29's Latine platform Somos. Yesika is the author of the best-sellers Corazón, Tesoro, and Hermosa, published with Not a Cult.
---
En conversación con Gloria Lucas y Yesika Salgado: Nalgonas, Mangos y Construyendo un Legado
---
Ven a conocer a la fundadora de Nalgona Positivity Pride, Gloria Lucas y la luminaria poética Yesika Salgado. Escúchalas contar todo sobre sus caminos en el activismo, los movimientos sociales de bricolaje, el chisme y la construcción de una hermandad.
---
Gloria Lucas es una activista de concientización sobre los trastornos alimentarios que se especializa en educación y recursos interseccionales sobre trastornos alimentarios que transforman las vidas de las personas BIPOC y amplían los modelos de tratamiento de los trastornos alimenticios. Siendo la fundadora y directora ejecutiva de Nalgona Positivity Pride, ella crea conciencia, a través de los medios digitales, hablar en público y usando el activismo de base. Vive en el Condado de Orange, CA.
Nalgona Positivity Pride (NPP) es una organización comunitaria de trastornos alimenticios y positivismo con respecto al cuerpo. Se dedica a crear visibilidad y recursos para las comunidades negras, indígenas y de color (BICC). Desde 2014, NPP ha estado creando conciencia sobre las necesidades específicas de BICC a través de medios digitales, educación, modelos de tratamiento de trastornos alimenticios de base y el arte.
Yesika Salgado es una poeta salvadoreña radicada en Los Ángeles que escribe sobre su familia, su cultura, su ciudad y su cuerpo gordo. Salgado es dos veces finalista del National Poetry Slam y ganadora del Premio Internacional del Libro Latino de Poesía, 2020. Su trabajo ha aparecido en el New York Times.