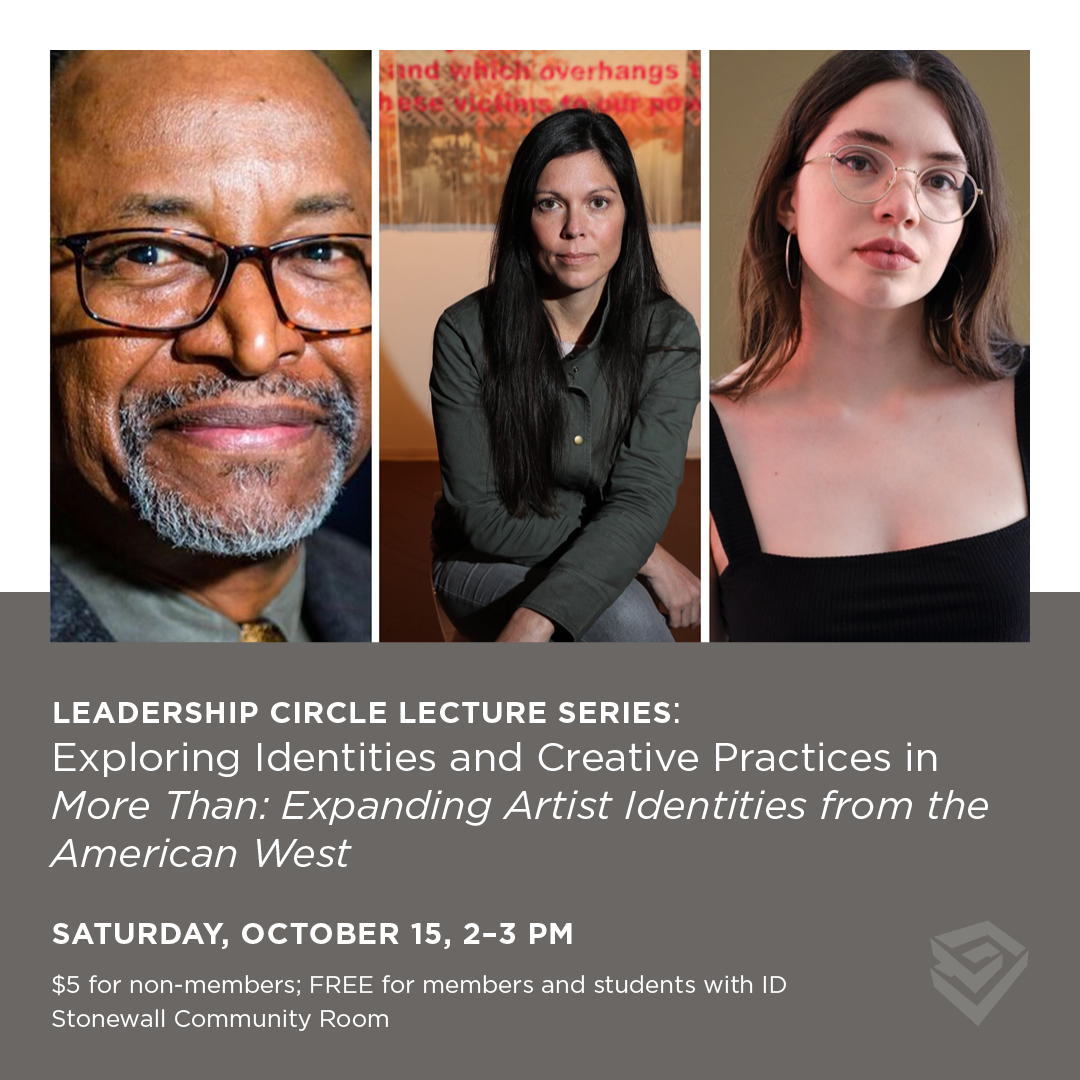 22/23 LEADERSHIP CIRCLE LECTURE SERIES
Join artists Steffi Faircloth, Sarah Sense, and Ezra Tucker as they highlight how their artworks included in More Than challenge, destabilize, and broaden the stereotyped myths surrounding the "West."
This lecture is in conjunction with the exhibition More Than: Expanding Artist Identities from the American West.
Free for museum members, non-members $5. Lecture will take place in the Stonewall Foundation Community Room located in the Alice Chaiten Baker Center for Art Education.
Exploring Identities and Creative Practices is supported in part by the Terra Foundation for American Art and is presented by Bank of America and Leadership Circle Sponsors Ann and Roger Looyenga.


---
About the Panelists 
Steffi Faircloth is a multimedia artist who received her BFA in photography at Arizona State University in 2019. She was born and raised in Nogales, Arizona, and her experience growing up in a Bordertown is the central theme in her work. Faircloth's work spans from video, photography, to sculptural works. She often finds herself playing with ideas of mundaneness and turning it into humor, while also focusing on popular culture due to how everyday it is; yet how disassociated it is with bordertown communities. Faircloth most recently exhibited work at the Scottsdale Museum of Contemporary Art, and currently lives and works in Tempe, Arizona.
Sarah Sense lives and works in California. Sense has traveled extensively through the Americas, Europe, United Kingdom and Southeast Asia. Her landscape photography is an essential part of her travel and visual art practice. Sense's weaving practice began in New York while a master's student at Parson New School for Design (2003-2005). While director and curator of the American Indian Community House Gallery, New York, Sense catalogued the gallery's thirty-year history, inspiring her search for Indigenous art internationally. Her world travels were charged with archive research, photo-weaving project that expanded to community programming, international Indigenous artist interviews and a book Weaving the
Americas.
Ezra Tucker is widely admired for his paintings that portray wildlife, notably mammals but also birds as well as historic scenes.
The Black Experience in the history of the American West has been untold by the historical record and visibly absent from many of our nation's museum collections. Tucker's historical paintings pictorially tell the stories of people of African descent: cowboys, bronco busters, Pony Express riders, Buffalo Soldiers, Black Seminole Scouts, and other Americans who shaped the North American frontier. Tucker's art gives dignity and presence to each subject that he depicts. His compositions reflect the classical style of design and storytelling. His depictions are alive, animated and appear ready to step out of two dimensions into a three-dimensional world.
Tucker's background as a commercial illustrator and designer gives him the experience and almost a scientific knowledge of how to portray an iconic or bold narrative scene or portrait. His work is included in the permanent collections of The Booth Western Art Museum, The James Museum of Western and Wildlife Art, The Briscoe Western Museum of Art, Anhesher -Busch, Inc., Adolf Coors, Inc., The Pentagon / United States Air Force Art Program and many private and Fortune 500 corporate collections.
---
About Leadership Circle
Leadership Circle is Tucson Museum of Art's foremost philanthropic membership group. Members support the museum in impacting audiences and our community through a robust roster of engaging exhibitions, exciting programs, innovative partnerships, and honoring community members who have advanced TMA's mission and vision. In appreciation for this support, Leadership Circle members enjoy exclusive programming, invitations to meet prominent guests, and VIP service.
For more information, RSVP or join Leadership Circle contact Development, at development@tucsonmuseumofart.org or (520)616-2689.
The 2022/2023 Leadership Circle is sponsored by Ann and Roger Looyenga. AC Hotel Tucson Downtown/Loveblock is the official hotel sponsor of TMA.