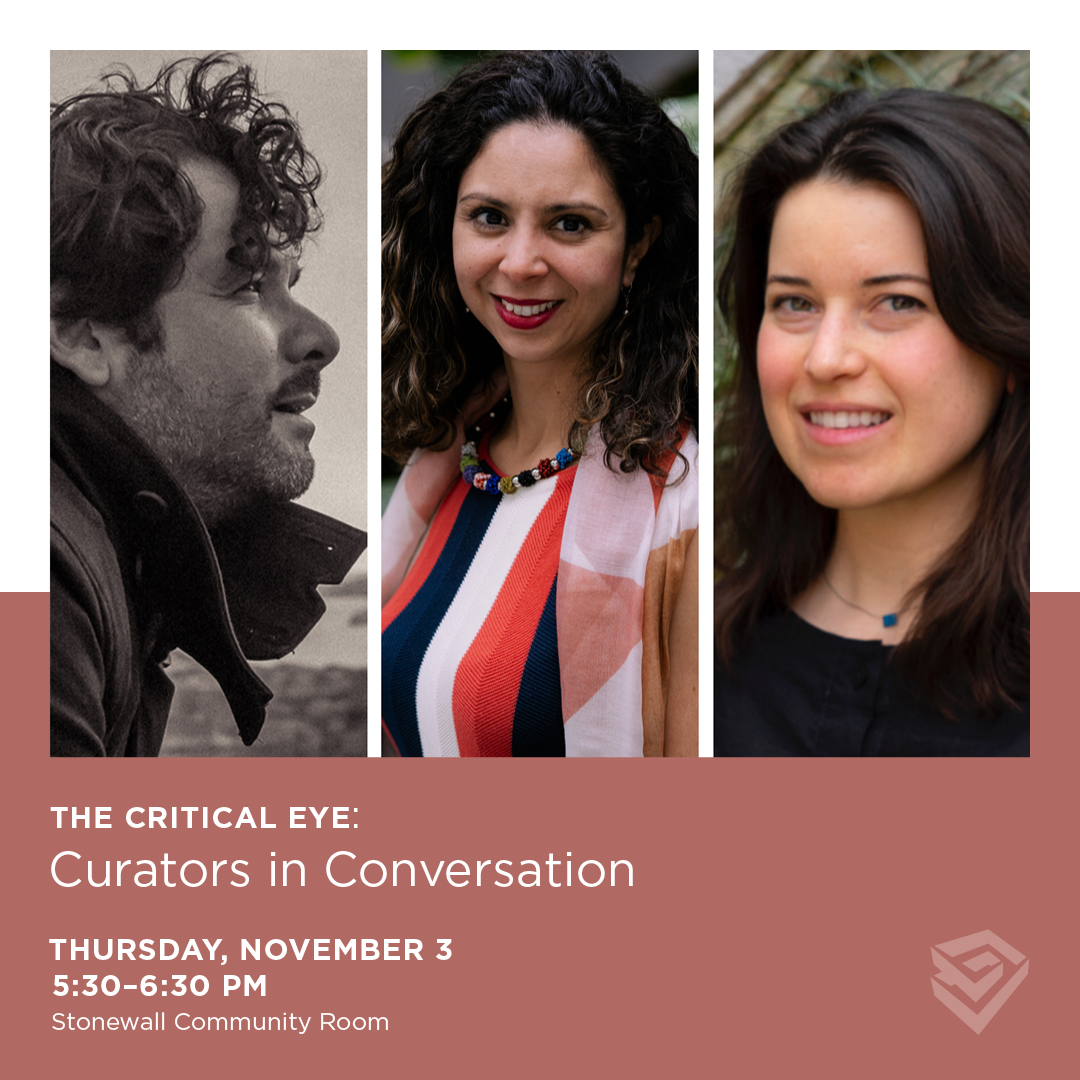 The Critical Eye: Curators in Conversation
---
In conjunction with the jurying of Arizona Biennial 2023, join curators Taína Caragol (Curator of painting, sculpture, and Latinx art and history, National Portrait Gallery), Laura Copelin (Curator at Large, Museum of Contemporary Art Tucson), and Julio Morales (Senior Curator, ASU Art Museum) in conversation with TMA's chief curator Dr. Julie Sasse to discuss current trends and what they look for in contemporary art.
$5 for non-members; free for members and students with ID.
RESERVE TICKETS

The three curator spotlights are presented by Stuart J. Meinke and the Arizona Biennial 2023 programs are presented by Dr. Peggy Jones and Alan Willenbrock
---
ABOUT THE PANELISTS
Taína Caragol is Curator of painting, sculpture, and Latinx art and history at the National Portrait Gallery. Her scholarship focuses on Latinx and Latin American art and its institutional and market validation, as well as on the recovery of histories suppressed by colonialism. Since her hiring in 2013 she has significantly increased the representation of Latinx historical figures and artists at the Portrait Gallery, through approximately 200 acquisitions and by curating or co-curating exhibitions such as One Life: Dolores Huerta, UnSeen: Our Past in a New Light, Ken Gonzales-Day and Titus Kaphar, and The Outwin 2019: American Portraiture Today. She is the director of the Portrait Gallery's triennial Outwin Boochever Portrait Competition 2022, and is co-curating the resulting The Outwin 2022: American Portraiture Today with Leslie Ureña, to open in April of this year.
Upcoming exhibitions also include 1898: US Imperial Visions and Revisions, a show co-curated with Kate Clarke Lemay, which will offer a critical examination of the events that turned the US into a world power with overseas territories. As the curator who led the portrait commission of former President Obama by Kehinde Wiley, she is a contributing author to the book The Obama Portraits, published in 2020 by Princeton University Press.
Caragol has a B.A. in Modern Languages from the University of Puerto Rico, an M.A. in French Studies from Middlebury College, and a Ph.D. in art history from the Graduate Center, City University of New York.
Laura Copelin is the Curator-at-Large for MOCA Tucson, where she has organized exhibitions and collaborations with artists like Grace Rosario Perkins, rafa esparza and Timo Fahler, Pia Camil, Jibade-Khalil Huffman, and many more. She is working on a publication and exhibition with the visionary artist and poet Cecilia Vicuña, which opens at MOCA in early 2023. She was previously the Executive Director & Curator at Ballroom Marfa where she realized numerous exhibitions, commissions, installations, and publications including The Blessings of the Mystery with artists Carolina Caycedo and David de Rozas; Hyperobjects with philosopher Timothy Morton; Candelilla, Coatlicue, and the Breathing Machine with Beatriz Cortez, Candice Lin, Fernando Palma Rodríguez; and Tierra.Sangre.Oro, co-organized with artist rafa esparza. Before her time in Texas, Laura was the Assistant Curator at the Santa Monica Museum of Art (now the ICA LA) under Director Elsa Longhauser, participated in a number of artist-run schools, and received dual bachelor degrees in Studio Art and English from UCLA.
Julio César Morales is an artist, educator, writer, and senior curator at the Arizona State University Art Museum. He is the founder and director for Queens Nails Annex, an artist-run project space in San Francisco (2003-2012). He was adjunct professor at The San Francisco Art Institute from (2000-2012) and associate professor in Curatorial Studies at The California College for the Arts from (1999-2010). Morales was adjunct curator for visual arts at Yerba Buena Center for The Arts in San Francisco (2008-2013), Morales was a contributing curator for the Japanese pavilion at the 2013 Venice Biennale. Curatorial work includes solo exhibitions with Ivan Argote, Nina Beier, Miguel Calderon, Tania Candiani, Pablo Helguera, Suzanne Lacy, Yoshua Okon, Gabriel Rico, Miguel Angel Rios, Claudia Peña Salinas, Superflex, and Koki Tanaka. His own artwork explores labor, migration, and underground economies, and has been shown at the Lyon Biennale, the Istanbul Biennale, the Singapore Biennale, and SFMOMA among others. The recipient of a 2020 Joan Mitchell Foundation Painters & Sculptors Grant, his art is included in the collections of the Museum of Modern Art, the Los Angeles County Museum of Art, the Kadist Foundation, and others.
The Critical Eye: Curators in Conversation is presented by Dr. Peggy Jones and Allan Willenbrock