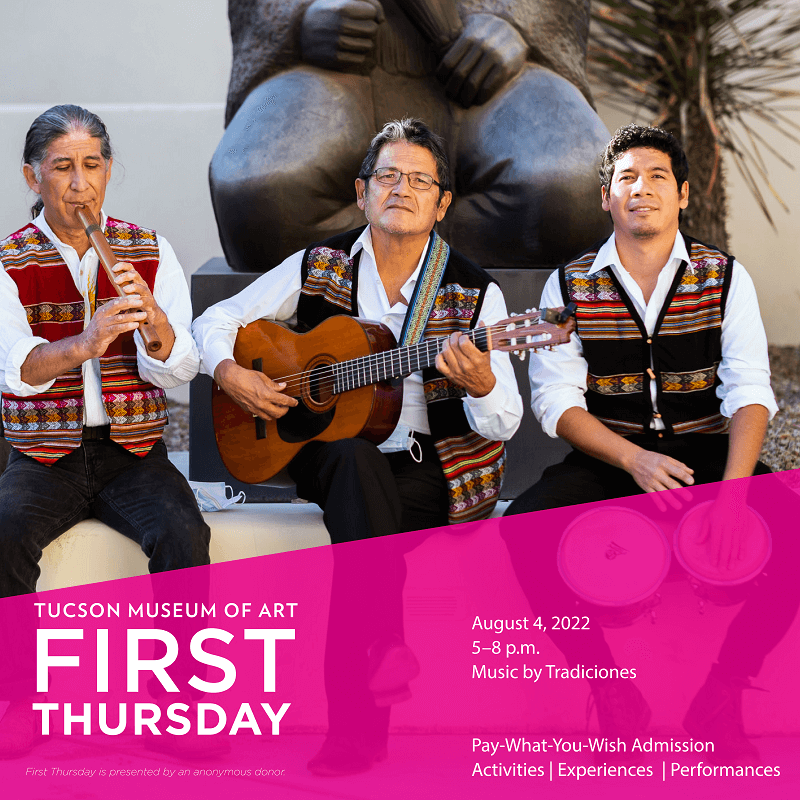 First Thursday of every month 5–8 p.m.
Pay-What-You-Wish Admission
Activities | Experiences | Performances
On the first Thursday of the month the Tucson Museum of Art and Historic Block offers extended hours and pay-what-you-wish admission from 5:00pm until 8:00pm. On August's First Thursday explore the museum's galleries and participate in various art and gallery activities, led by Ami Dalal and Laila Halaby, enjoy live music by Tradiciones, grab a drink at the cash bar serving beer and wine, and purchase a vegan sweet from Twelve Twenty Bakery.
First Thursday is presented by an anonymous donor.
*Limited tickets available. Reserve online two weeks before the event. First Thursday will take place indoors and outdoors and follow all TMA COVID-19 protocols.
---
Primer jueves de cada mes 5–8 p.m.
Entrada de Paga-lo-que-Desees
Actividades | Experiencias | Espectáculos
El primer jueves de cada mes, el Museo de Arte de Tucson y Bloque Histórico ofrece horarios extendidos y entrada de paga-lo-que-desees desde las 5:00 p. m. hasta las 8:00 p. m. En el primer jueves de agosto exploré las galerías del museo y participé en varias actividades de arte y galería, dirigidas por Ami Dalal y Laila Halaby, disfruté de la música en vivo de Tradiciones, tomé una bebida en el bar que sirve cerveza y vino y compré un postre vegano de Twelve Twenty Bakery.
Primer Jueves es presentado por un donante anónimo.
*Boletos limitados disponibles. Reserve en línea dos semanas antes del evento. El Primer Jueves se llevará a cabo dentro y fuera del museo y seguirá todos los protocolos de TMA COVID-19.