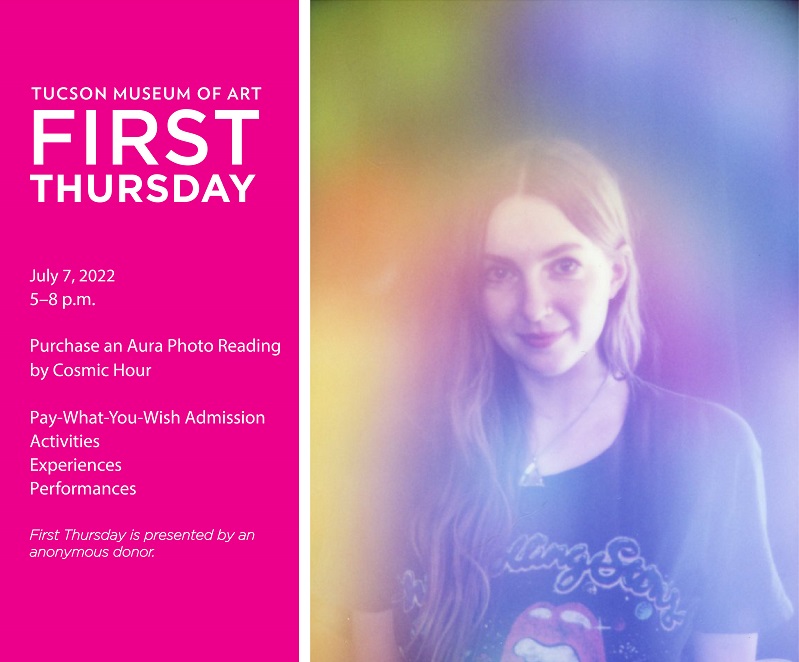 First Thursday of every month 5–8 p.m.
Pay-What-You-Wish Admission
Activities | Experiences | Performances
On the first Thursday of the month the Tucson Museum of Art and Historic Block offers extended hours and pay-what-you-wish admission from 5:00pm until 8:00pm. On July's First Thursday discover works of art from the museum's permanent collection including the new exhibit The Story of a Painting to look closely at portraiture throughout the galleries.
The evening will feature art and gallery activities that explore the dichotomy of how one sees themselves and how others see you led by Ami Dalal and Laila Halaby, music by Khalid El Boujami & Brahim Fribgane, a cash bar serving beer and wine and vegan desserts by Tilted Halos.
Purchase an Aura Photo Reading with Cosmic Hour; advanced registration is recommended, CLICK HERE to sign up. Aura photo readings + interpretations will give you a comprehensive insight into your emotional-energetic state + spiritual state of being to help you gain spiritual awareness. Participants will come away with a polaroid photo representation of their human energy field and a better understanding of their own auric radiance.
First Thursday is presented by an anonymous donor.
*Limited tickets available. Reserve online two weeks before the event. First Thursday will take place indoors and outdoors and follow all TMA COVID-19 protocols.
---
Primer jueves de cada mes 5–8 p.m.
Entrada de Paga-lo-que-Desees
Actividades | Experiencias | Espectáculos
El primer jueves de cada mes, el Museo de Arte de Tucson y Bloque Histórico ofrece horarios extendidos y entrada de paga-lo-que-desees desde las 5:00 p. m. hasta las 8:00 p. m. En el primer jueves de julio, descubra obras de arte de la colección permanente del museo, incluyendo la nueva exhibición The Story of a Painting para observar de cerca los retratos a través de las galerías.
La noche contará con actividades de arte y galería que exploran la dicotomía de cómo uno se ve a sí mismo y cómo los demás te ven, dirigidas por Ami Dalal y Laila Halaby, música de Khalid El Boujami y Brahim Fribgane, un bar en efectivo que sirve cerveza y vino y postres veganos de Tilted Halos.
Compra una lectura de fotos de aura con Cosmic Hour; se recomienda registro avanzado, HAGA CLIC AQUÍ para registrase. Las lecturas de fotos del aura + las interpretaciones le darán una visión completa de su estado emocional-energético + estado espiritual del ser para ayudarlo a obtener una conciencia espiritual. Los participantes obtendrán una representación fotográfica polaroid de su campo de energía humano y una mejor comprensión de su propio resplandor áurico.
Primer Jueves es presentado por un donante anónimo.
*Boletos limitados disponibles. Reserve en línea dos semanas antes del evento. El Primer Jueves se llevará a cabo dentro y fuera del museo y seguirá todos los protocolos de TMA COVID-19.