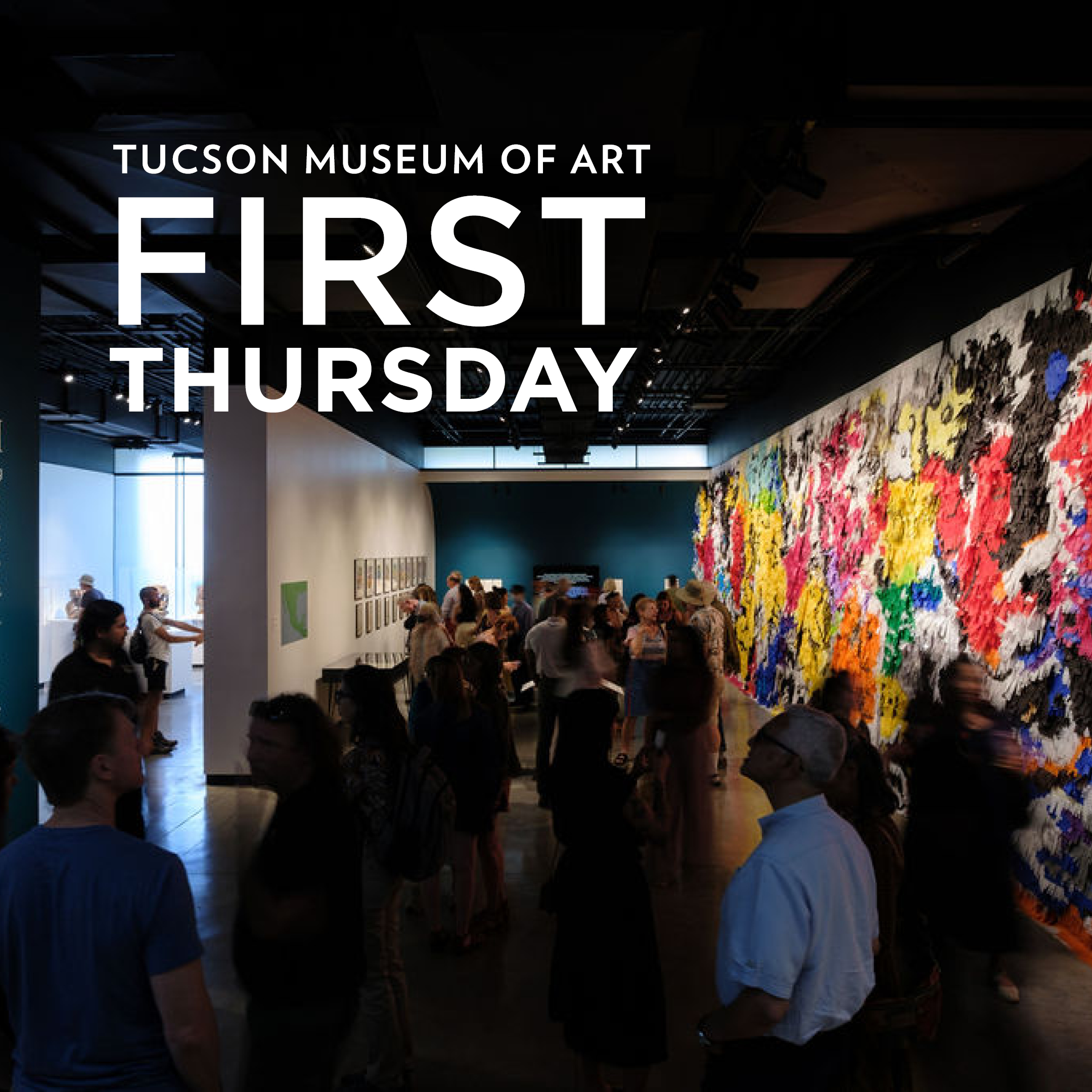 On the first Thursday of the month the Tucson Museum of Art and Historic Block offers extended hours and pay-what-you-wish admission from 5:00 pm until 8:00 pm. November's First Thursday kicks off a Día de los Muertos community celebration happening on November 2 to November 12, that will include altar displays from Sophia Mayorga and Galeria Mitotera.
The evening will feature art and gallery activities where you can write a letter to someone you've lost or a I remember poem with Laila and create tissue paper flowers with Ami. And from 6:00 – 7:30 pm be part of a Death Cafe (register here) facilitated by Alice Vath and Cara Carrillo.
During First Thursdays TMA provides space for emerging and established food vendors throughout Arizona to offer pop-ups and encourage guests to support local businesses and foodie creatives. This month purchase Salvadorian food from Brujeria Pupuseria, enjoy live music from Las Azaleas, and a cash bar serving beer and wine.
First Thursday is presented by an anonymous donor.
---
El primer jueves de cada mes, el Museo de Arte de Tucson y Bloque Histórico ofrece horarios extendidos y entrada de paga-lo-que-desees desde las 5:00 pm hasta las 8:00 pm. El primer jueves de noviembre inicia una celebración comunitaria del Día de los Muertos que tomará lugar del 2 al 12 de noviembre, e incluirá altares exhibidos de Sophia Mayorga y Galería Mitotera.
La noche contará con actividades de arte y galería donde podrás escribir una carta a alguien que has perdido o un poema llamado Yo Recuerdo con Laila, y crear flores de papel de seda con Ami Y de 6:00 p. m. a 7:30 p. m. ser parte de un Death Café (regístrese aquí) facilitado por Alice Vath y Cara Carrillo.
Durante los primeros jueves, TMA ofrece espacio para vendedores de comida emergentes y establecidos de Arizona para facilitar ventanas emergentes (pop-ups) y animar a los invitados a apoyar a los negocios locales y a los creativos amantes de la comida. Este mes compra comida salvadoreña en Brujeria Pupuseria, disfruta de música en vivo de Las Azaleas y de un bar en efectivo que sirve cerveza y vino.
Primer Jueves es presentado por un donante anónimo.