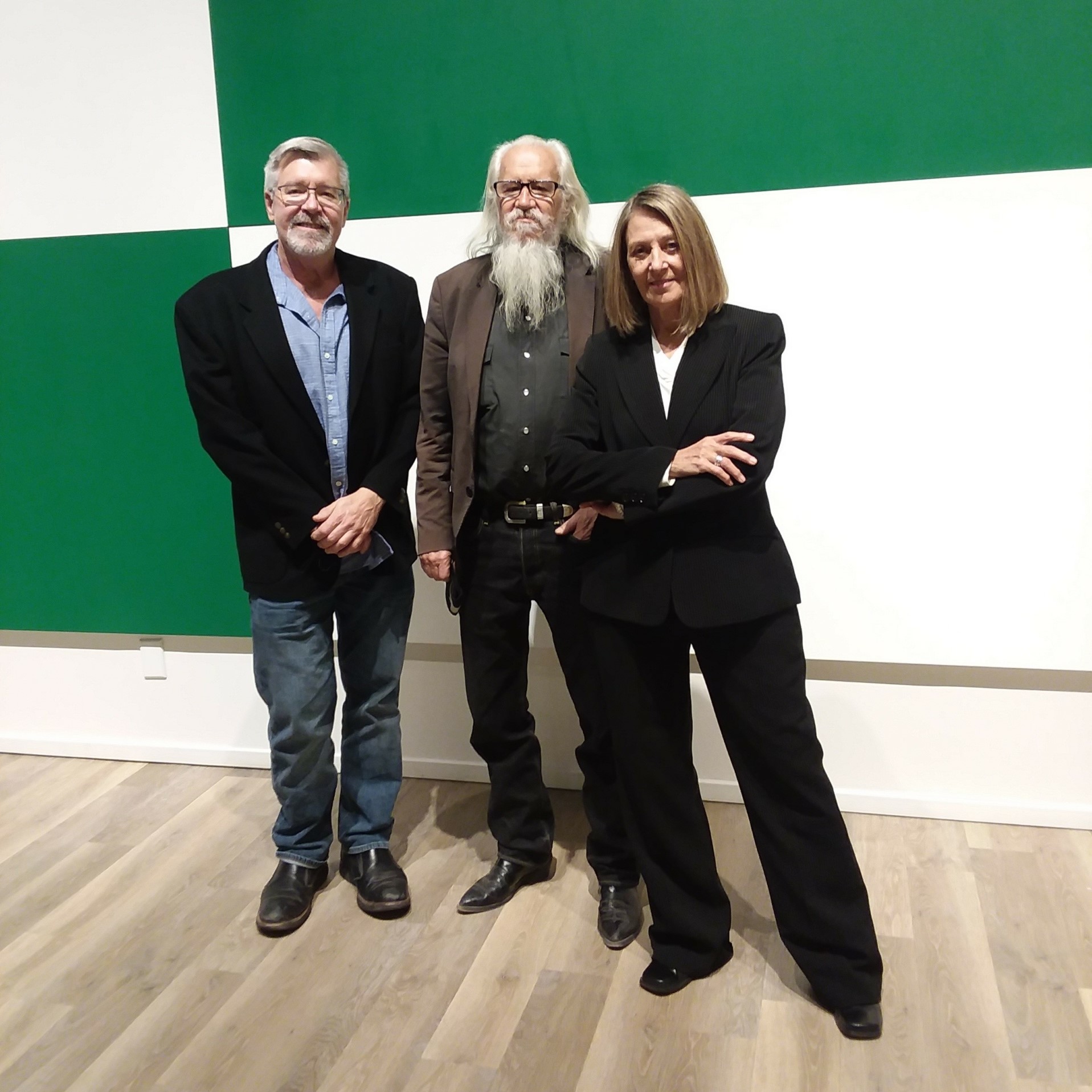 Join Dr. Julie Sasse, Dr. Paul Ivey, and Olivier Mosset lecture will be held in the Stonewall Community Room, located in the Alice Chaiten Baker Center for Art Education.
Dr. Paul Eli Ivey is Professor of Art History at the University of Arizona, Tucson, where he teaches Modern and Contemporary Art and their relationship to notions of spirituality and cognitive and social agency. His research engages the built environments and compounds of alternative and esoteric American religions and communal groups. Winner of six college and university teaching awards, his interest in contextualizing contemporary artworks within both perceptual and institutional systems has informed his teaching and research. He has written several essays about Olivier Mosset's work, including one for his 2003 Swiss retrospective Olivier Mosset: Arbeiten/Works, 1966-2003, and one for his 2003 Olivier Mosset, Recent Work, organized by the University of Arizona Museum of Art.
Dr. Julie Sasse is Chief Curator at the Tucson Museum of Art where she has served since 2000. She has organized more than 100 group and solo exhibitions and has written more than 40 publications about diverse subjects and artists, including hybridity, the environment, Indigenous art, LatinX art, contemporary art of the Southwest, and women artists. In 2020, she released her book, Southwest Rising: Contemporary Art and the Legacy of Elaine Horwitch, published by Cattle Track Press and TMA. Sasse received a Clark Art Institute fellowship (2008); a Latino Museum Studies Fellowship in Washington, DC (2007); a Louise Foucar Marshall Foundation Graduate Fellowship (2013); and fellowships in 2016 and 2017 at the Women's International Study Center in Santa Fe. She recently authored an essay for Daddy-O's Book of Big-Ass Art, published by Texas A & M University and the feature essay for a recently published monograph on New Mexico artist Patrick Mehaffy, published by Fresco Books. She recently curated OLIVIER MOSSET, a feature exhibition of the noted Swiss artist's works, and will open Brad Kahlhamer: 11:59 to Tucson in March of 2022, considered one of the top 11 influential Indigenous artists in the online magazine Artsy.
Olivier Mosset was born in 1944 in Bern, Switzerland. Mosset's work has been featured in several solo and group exhibitions. Mosset's astute and (often) provocative approach to painting has kept him at the cutting-edge of contemporary art since the late 1960's. He gained recognition as a member of BMPT alongside Daniel Buren, Michel Parmentier, and Niele Toroni. This short-lived group of conceptually driven painters reduced the level of skill required to create their work as a means of making art more accessible and to emphasize the importance of the art object over its authorship. After relocating to New York in 1978, Mosset's body of monochrome paintings were a key influence on the generation of Neo-Geo painters who were to emerge in the 80's. Associated with conceptual abstraction, Mosset's works represent pure color and shape, inciting open-ended physical experiences of surface, scale, and pattern.
*Limited tickets available. Reserve online two weeks before the event.